The Benefits of a Professional Truck Wash in Northern Virginia
In the world of commercial trucking, your rig is more than just a vehicle; it's a vital part of your business. It's a workhorse that carries your cargo, and it represents your brand on the road. Maintaining its appearance and condition is not just a matter of pride; it's a smart business move. That's where professional truck washing services at Road Runner Wrecker Service come into play.
The Convenience Factor
If you're a trucker in Northern Virginia, you've likely encountered the challenge of finding a nearby commercial truck wash. In fact, the closest one is over 70 miles away in Fredericksburg, Virginia. This lack of proximity often meant long drives just for a truck wash, costing you valuable time and fuel. Road Runner Wrecker Service recognized this need in the local area and decided to fill the gap.
With Road Runner's Truck Wash, you now have a convenient solution right in your vicinity. No more lengthy trips; simply swing by for a professional and quick wash when your rig needs it the most. We understand that in the trucking industry, time is money, and our services are designed with that in mind.
Preserving Your Truck's Appearance and Condition
Your truck is a reflection of your business. A clean, well-maintained rig not only leaves a positive impression on the road but also plays a crucial role in extending its lifespan. The elements your truck faces daily – dust, dirt, road salt, and grime – can take a toll on its exterior, potentially leading to corrosion and damage.
Road Runner Wrecker Service's Truck Wash offers more than just a surface-level cleaning. Our services include break-away, fast-moving doors, undercarriage spray, spot-free rinse, heated pressure wash, and a choice of high-quality materials and soaps. We pay attention to every detail to ensure that your truck not only looks great but also stays in excellent condition.
Environmentally Friendly Choices
In addition to our comprehensive cleaning services, we understand the importance of being environmentally responsible. Our Truck Wash uses eco-friendly cleaning materials and techniques, ensuring that we minimize our impact on the environment while delivering top-notch results for your rig.
Why Cleanliness Matters
Here, we break down why getting your truck washed is such a vital part of quality upkeep:
1. Keeping the DOT Happy
It might seem crazy, but the Department of Transportation (DOT) keeps a stern eye on all matters of road infrastructure, including those who travel most often on it, which typically means truck drivers. Since semi-trucks are the most present and imposing figure on the roads, the DOT is particularly keen to ensure everything is in order; that includes clean rigs. Accumulated dirt on rigs has been known to fly off and cause hazards for other drivers. So, a clean truck is, in fact, a safe truck for both drivers and the DOT.
2. Better Aerodynamics
Wondering why your MPG is so much lower than just two weeks ago? It could be because you haven't gotten your truck washed! A dirty truck actually impairs the original flow of air around the truck, making it harder for you to travel forward. This increase in resistance makes your engine work harder, causing you to use more fuel. A clean truck will allow you to move as you were meant to and save more fuel.
3. Keeping Up Your Reputation
Trucking companies are put in a unique position in that your brand is visible the entire time you're doing your job. More than that, since you're on the road the whole time, that's countless other drivers that are going to be seeing you and your truck on a daily basis. Having a filthy truck does not translate well for business. A clean truck signifies pride and professionalism, both things you'll need to uphold your reputation.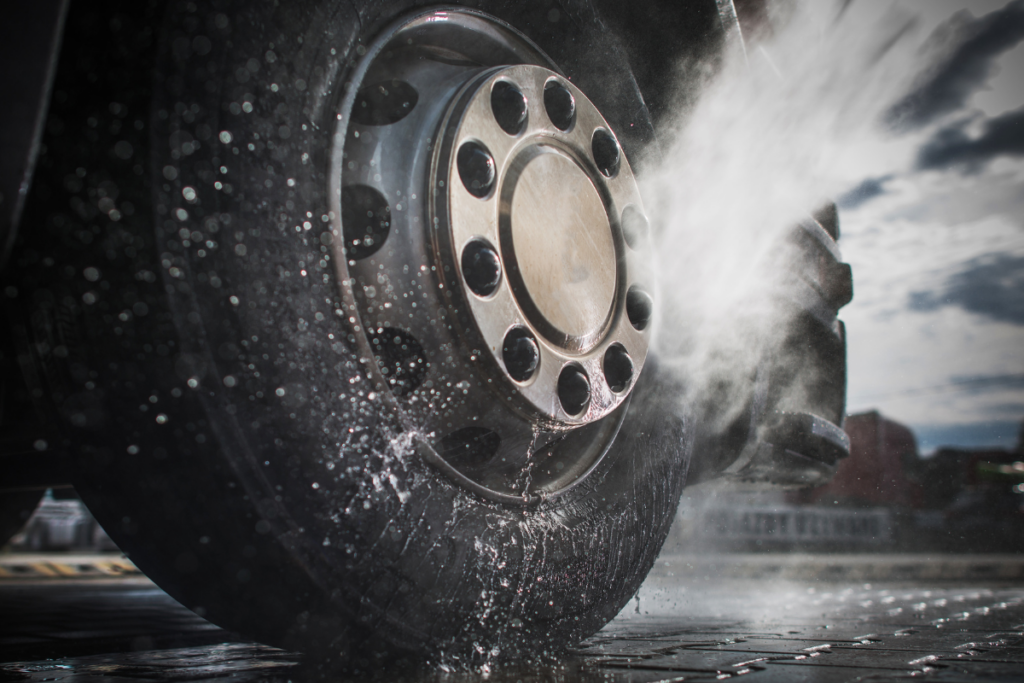 Northern Virginia Truck Wash
In Northern Virginia, the first commercial truck wash is more than just a convenience; it's a lifeline for truckers. At Road Runner Wrecker Service, we've recognized the unique needs of truckers in the region and have made it our mission to provide a professional, quick, and efficient truck washing service.
Your truck is a vital asset in your business, and it deserves the best care possible. With Road Runner's Truck Wash, you not only save time and fuel but also protect your rig's appearance and longevity. We take pride in being your trusted partner on the road, ensuring that your truck always looks its best and performs at its peak.
So, next time your rig needs a refreshing wash, look no further than Road Runner Wrecker Service's Truck Wash. Your convenience, your truck's condition, and the environment will all thank you.