Heavy Towing Company Recovers 35,000 lbs Boom Lift
Road Runner Wrecker Service provides professional heavy towing and recovery services. We recently helped a local company who got their 35,000 lbs boom lift stuck in a tight spot! Our light duty operations manager, Adam, was on the scene and was gracious enough to answer our questions!
Why did the customer need a heavy towing company?
We had received a call from a power washing company that had gotten a 35,550 LBS boom lift stuck behind some townhomes in Herndon, VA. They mentioned that they had tried multiple other heavy towing companies, but because of the situation, none were able to help. On May 27th, I went out there to assess the job and see if we could successfully recover the boom lift. When I got there, it was clear why nobody wanted to help.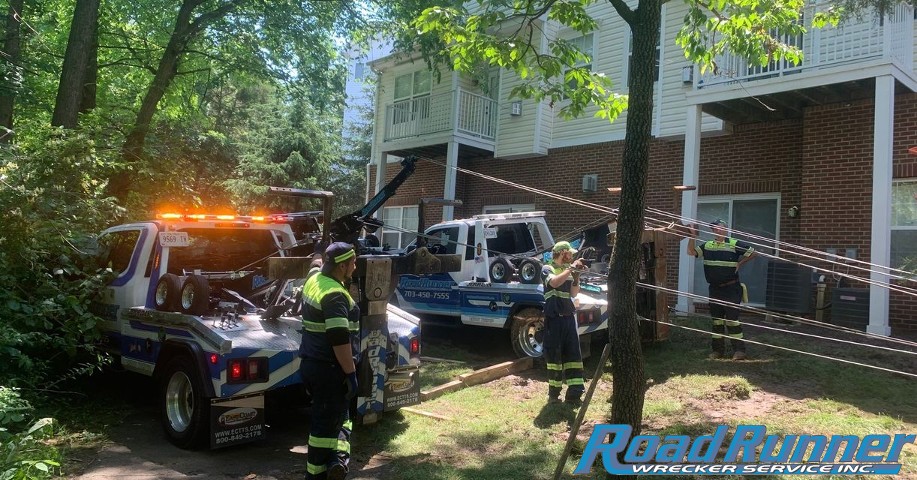 Why did so many heavy towing companies say no to this job?
The boom lift was behind the townhomes and stuck between a bunch of trees. The only way out was towards the townhomes. The terrain was a slight hill sloping away from the townhomes and towards the woods/trees that the boom lift was stuck between. The ground was saturated with water due to the rain and the power washing making it very slippery. This made it impossible to get a heavy-duty wrecker back there to perform the recovery.
The only place to get a heavy-duty wrecker was between two rows of townhomes. There would be two trees between the truck and the boom lift making it impossible to use without getting the boom lift out past the trees. If that wasn't enough, the boom lift had sunk right where the gas lines ran between the two buildings causing another obstacle.
How did you manage to complete such a complex heavy recovery?
Using my training and different formulas, I was able to figure out that I had 29,331 LBS of resistance and needed 43,997 LBS of anchor ability. (Meaning I needed to be able to pull 29,331 LBS and whatever I was pulling with needed to weigh 43,997 LBS). It was a very tight area that we had to work with, so I came up with the plan to use two light-duty trucks and one medium-duty truck. The light-duty trucks weigh 11,000 LBS and the medium-duty truck weighs 12,000 LBS, giving me only 34,000 LBS of an anchor. I added a 10,000 LBS skid steer and chock blocks for all three wreckers I was able to get my anchor weight where it needed to be with this equipment. Another factor in my planning was coordination with the gas, water, and misc. utilities. They were required to be on scene to make sure everything was marked and in case something happened.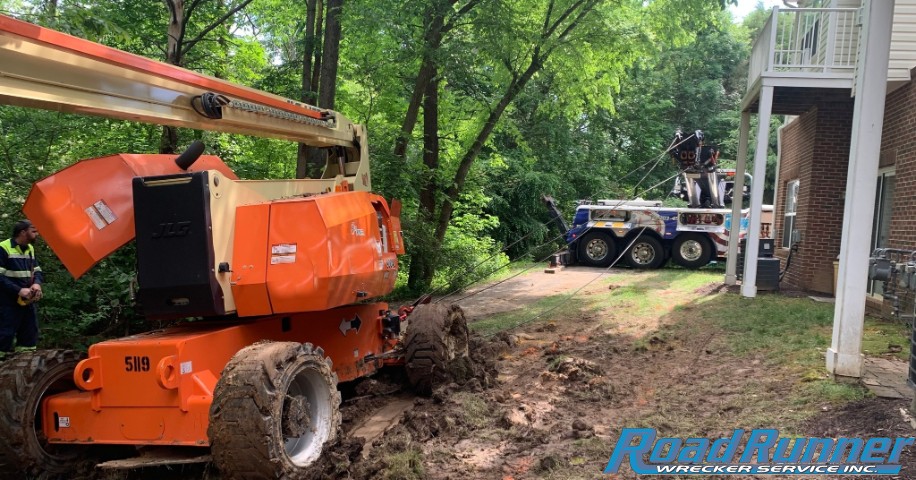 What steps did you take during the heavy towing process?
On the day of the recovery placing the equipment was very difficult due to the ground still being wet. We had to winch all three trucks into place and getting the skid steer into place was a task due to how slippery it was. Using four 4-ton snatch blocks, I was able to get 10 lines to the load which only put 2,934 LBS on each line, significantly reducing the chance of overloading any of the lines and preventing any lines from breaking. It took about 1.5 hours to get set up on the first pull. After getting the boom lift out of the hole it was in, we had to readjust our trucks 3 more times with three other pulls.
This got the boom lift where we needed it to be for us to get a heavy wrecker on it to pull it the rest of the way. We then had a 50-ton rotator back down between the townhouses and rig up to the boom lift using two 8-ton snatch blocks, two lines, two endless loops, and setting in its outriggers. We were able to pull the boom lift the rest of the way out.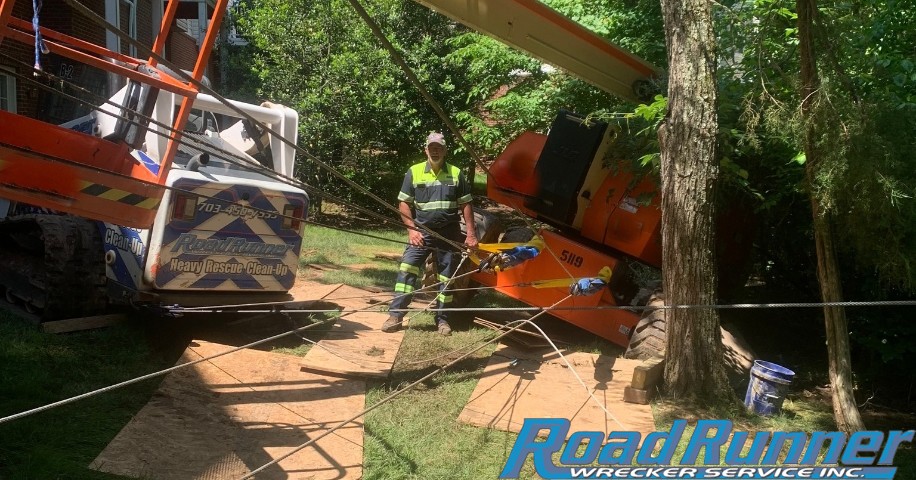 How long did this heavy towing job take?
In total, we had about 6 hours of rigging, about 2 hours of pulling, and 3 hours of getting the trucks into place. This job took 3 days to complete, 1 day for planning, 1 day with the light and medium-duty trucks, and the last day was the final recovery with the rotator. We also had 6 personnel on the first day of the recovery and 3 personnel on the second day.
What heavy towing equipment was used?
Two Ford F-550's with Jerr-Dan MPL 40
Ford F-600 with Jerr-Dan HPL 60
Kenworth T-880 with Century 1150 R
Bobcat T650
Four blue endless loops
Two grade 80 3/8 chains
Six chock blocks
Four 4-ton snatch blocks
Two 8-ton snatch blocks
Shovels
Digging bar